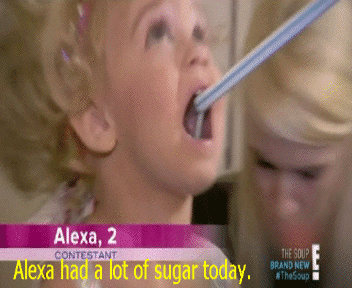 In three weeks I have two back to back weddings. I am so excited and I need to do so serious dress shopping. I know that in that week span between weddings there will be fun events and great times with family and friends. I also know I will want to eat some cake and enjoy myself without the stress or the guilt of eating poorly. So to give myself a great head start on eating healthy and enjoying myself at the end of the month… I am doing a 3 week no sugar challenge.
I think you can do this challenge two ways. The first is no sweats. Pretty easy to follow. No cookies, ice cream cake. The second is hard core. If you really take a look at all of ingredients of the food you are eating sugar is there. From chips to spaghetti sauce they have snuck in sugar. So I am taking the more extreme route, because it is really not that far off from my current eating habits.
To me this just means I will be more focused when I choose my food. I will prepare all my meals in advanced and nothing will come out of a box. I will still have Traders Joe's peanut butter and protein powder. This may sound pretty intense but I love a challenge and once you get off of sugar for a few days you really stop craving it. It just takes some discipline in the beginning.
I encourage you to join in on the no sugar fun. I am doing this challenge with my Mom and Sister. This will give us some support when we want a cupcake.